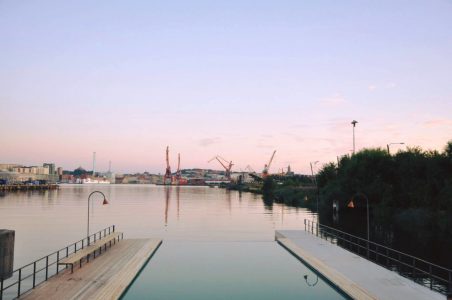 Allmänna badet
Swim in the city centre!
Frihamnen, Gothenburg
Allmänna badet is the Swedish name for the communal bath in Jubileumsparken in Frihamnen.
Since the summer of 2015 the people of Gothenburg has got a new favorite place to cool themselves off during hot days. The bath in The Jubilee Park is the first communal bath that has ever floated about the river Göta Älv. The pool is 20 meters long, 8 meters wide and is open for anyone who wants to take a dip. And in 2022 it's gonna be even bigger with several pools!
Just like the sauna (that's closed for renovation) in the same place, the bath is a part of Gothenburg's 400 year anniversary 2021 and has been made after the people of Gothenburg's wish to be closer to the water. The water is being cleansed without chlorine and the bath was made with requirements for social and ecological sustainability together with RaumlaborBerlin.
June 18 to August 21 the Jubileum's park is open for swimming and other activities all days of the week: Monday, Wednesday, Friday, Saturday and Sunday 12-18 and Tuesday and Thursday 15-21. The amount of swimmers is limited to 80 people so there are time slots on a drop-in basis. That means you sometimes have to queue and wait for a spot. However, if there is few people swimming you could be allowed to stay over several time slots. New dressing rooms are built at the moment so if you can, swap into your swimming gear at home. There are outdoor showers next to the bath.
Sailing
Allmänna badet offers free sailing courses called "Alla kan segla" for school classes, groups and citizens alike. The sailing camp is open for all ages and you learn the basics of sailing. Read more on the website for opening hours.