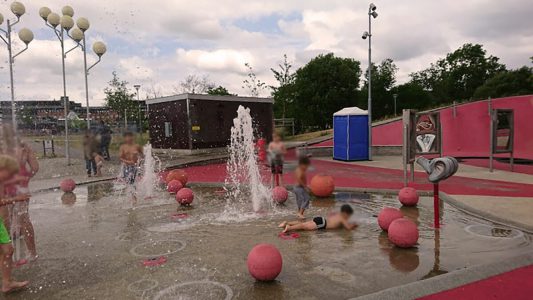 Angeredsparken's excursion playground
Excursion playground in Angered with water games!
Angered, Gothenburg
Between the mall in Angered's centre and Angered's arena you can find one of Gothenburg's four excursion playgrounds. This one is circus-themed, both when it comes to color, form and playing equipment.
Equipment:
Slides, climbing ropes, funhouse mirrors, trampolines, a large climbing wall, carousels, a pair of swings, sandboxes, a playhouse, zipline, and a huge swing.
Early June to Late August the "water games" are open, that splashes water from small nozzles in the ground. In the park there's also places to barbecue, boule court, places to sit, large lawns and an outdoor gym and lots of other activities.
Nearest public transport:
Angereds centrum
The excursion playground is open all year round, 24/7.
On The Smart Map we've chosen to only list the city's excursion playgrounds. If you want to see all playgrounds on a map we recommend this app, that is sadly only available in Swedish: Lekplatsen.
Photo: Fredrik Alexandersson.