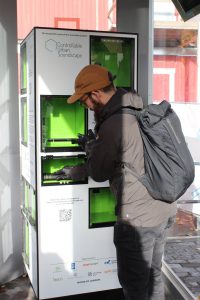 Book Swapping Bookshelf
Book swapping bookcase at the bus stop where the electric bus 55 charges its batteries.
Johanneberg, Gothenburg
Johanneberg Science Park, has taken the initiative to enhance the waiting experience at the Line 55 "silent" bus stop on Johanneberg Campus, by installing an outdoor public bookcase inside the bus stop. Chalmers Students for Sustainability could not have missed the opportunity to support this innovative project on Campus and its smooth development.
The swapping bookshelf is free, open 24/7, does not require any registration, and is there to make your waiting at the bus stop a more pleasant and relaxing experience.
Come, enjoy and spread the word (and the books!)