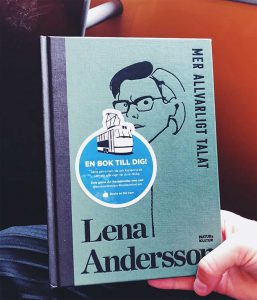 Books on the tram
A tram library accessible to everyone in Gothenburg.
Digital
A tram library in Gothenburg! Borrow, read and return at your nearest tram when you've finished the book!
It can be everything from fictional novels to biographies to self help- and fact books. New and old, Swedish as well as foreign titles.
Their aim is to offer a wide selection that fits everyone – no matter age or taste. The books are mostly from their own book shelves and donations from book publishers.
The Project is non-profit and independent, and a part of Books On The Move Global (link) – an international initiative that exists in 14 countries and 20 cities world wide (Stockholm being one of the other cities).
HOW IT WORKS
Find a book with a Books On The Tram sticker on a tram. The books can, for instance be on the tram's seats or at the bus stop bench.
Borrow the book and read it.
Share your book experience through social media with the tag #booksonthetram and @booksonthetram on Instagram.
After you've read the book, drop it off at your nearest tram, so that the next person also gets the chance to read a really good book.
It is, of course, free to borrow books and there is no time limit on how long you can borrow a book. They trust you to show respect to other by taking care of the books and return them within a reasonable time.
GET INVOLED.
Do you want to get involved in the project and give books a more fun life, contact them at hey@booksonthetram.se