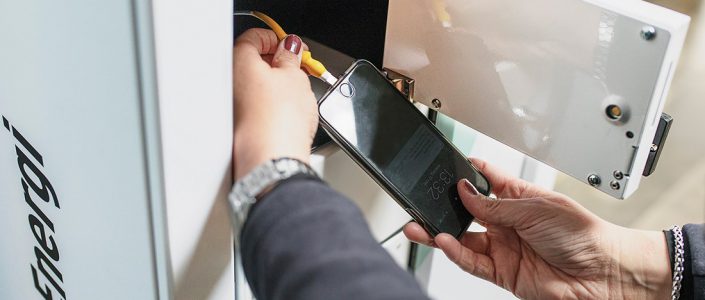 Charge your mobile phone
Charge your phone securely!
Gothenburg
Scattered around Gothenburg there are mobile charging station for the public to use. Safe and for free.
The charging poles have lockable boxes with charging cables for both iPhones and Androids (like Micro-USB.)
Behind the project is Göteborg Energi.
Mobile phone
Charging station
Borrow
Spaces
Charging booths
-
Folkets Hus, Hammarkulletorget 62 B
Gårdstens bostäder, Kastanjgården 3
Högsbo basket, Ängåsvallen 20
Johanneskyrkan, Johannes kyrkogång 1
Naturhistoriska museet, Museivägen 10
Nordic Wellness, Gustaf Dahlénsgatan 13
PDL Center, Marieholmsgatan 44
Ronald McDonald Hus, Vitaminvägen 10
Rosendals idrottsanläggning, Studiegången 2
Scandinavium, Valhallagatan 1
Serneke Arena, Krutvägen 2-4
Sjumilahallen, Friskväderstorget 13
Stadsmuseet, Norra Hamngatan 12
Ullevi Tennisklubb, Smålandsgatan 2
Ungdomens hus, Mandolingatan 47
Universeum, Södra Vägen 50
Världslitteraturhuset, Gamlestadstorget 11
Volvo Museum, Arendals skans
Open when the space they're in are open.
Opening hours
Always open