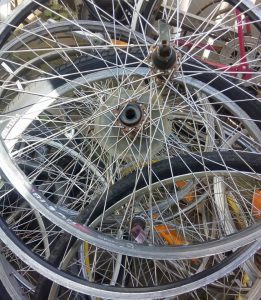 Cykelfixarna
An Open DIY bike workshop
Lundby, Gothenburg
Cykelfixarna is a Cykelkök ("Bike kitchen"), a open Do-It-Yourself workshop for everyone who needs to fix or service their bike.
Cykelfixarna is a free do-it-yourself workshop for everyone that needs to fix or maintain their bicycle, there's a knowledgeable volunteer there to show you how you, yourself, fix your bike.
Cykelfixarna is located in a garage close to Brämaregården's church and there's mostly room outdoors for bike repairs.
The initative is run by The Swedish Church, Lundby assembly.