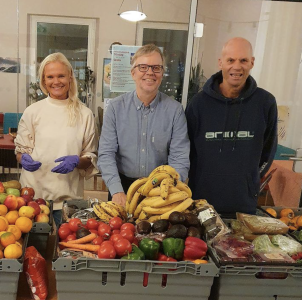 Foodsavers West
Organisation that saves food
Several places in the city., Gothenburg
The food distributions are intended for people who live in economic vulnerability and are in need of food. However, everyone is welcome to pick up goods, regardless of wallet size. A variety of food items, including fresh bread, fruit and vegetables and dry goods, are distributed during each event. The food available varies from occasion to occasion and the amount depends on what is donated to the organization. There is no registration required to visit the food distribution, but visitors are given number slips to organize their place in line. The numbers are called randomly when the distribution starts, to avoid conflicts and to be as fair as possible.
The organization has restrictions on the amount of food that visitors can take, depending on the availability of food at the time. Volunteers instruct visitors on how much food they can take to ensure everyone gets something. The food is calculated based on the number of visitors and the organization aims to give everyone a grocery bag.
The food distributed is provided through collaborations with several stores and bakeries that donate their surplus. Volunteers are responsible for collecting, sorting and distributing the food as well as environmental sorting of cartons, plastic and compost. No financial compensation is provided for the volunteer work, all work is done on a voluntary basis.
Watch the video about the business at this link:
Youtube.com
Tag: Food