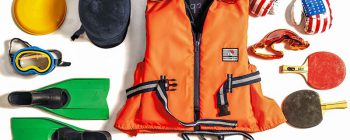 Fritidsbanken Frölunda Torg
Borrow sport and leisure equipment.
Frölunda, Gothenburg
Fritidsbanken (literally "Leisure time bank") is a library with sporting and leisure equipment. Here everyone can borrow equipment for an active leisure time. For instance skis, inlines, life jacket and much more – totally free for 14 days. At Fritidsbanken Frölunda Torg there are over 5000 things to borrow.
Everyone can borrow and everything is for free.
The equipment is used, but usually in very good condition. The idea is that you or your kids can get access to equipment and try different sports and leisure activities without paying a dime. You can also support Fritidsbanken by donating equipment you don't use anymore.
Fritidsbanken is a concept started in Värmland and there are today about 95 Fritidsbanks in Sweden. Fritidsbanken Västra Frölunda is run by the organisation Fokus in cooperation with Skandia Fastigheter and the district administrations of West Gothenburg and Askim-Frölunda-Högsbo.
How to find them:
Fritidsbanken Frölunda Torg is located at the mall Frölunda Torg, upper level, right next to Blodcentralen and Försäkringskassan with an entry on the outside of the mall.