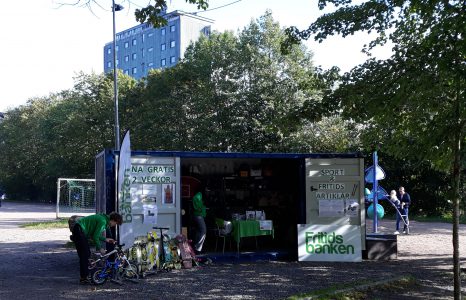 Fritidsbanken Slottsskogen
Borrow sporting and leisure equipment.
Majorna, Gothenburg
By the playground Plikta Fritidsbanken (literally "Leisure time bank") Slottsskogen is located, filled with sporting and leisure equipment that you can borrow for a few hours when you visit the park or bring home for 14 days. You can return what you borrowed either when Plikta Parklek is open or during opening hours for Fritidsbanken Slottsskogen.
Everybody can borrow and everything is for free!
The equipment is used, but usually in very good condition. The idea is that you or your kids can get access to equipment and try different sports and leisure activities without paying a dime. You can also support Fritidsbanken by donating equipment you don't use anymore. Fritidsbanken Slottsskogen has limited opportunities to receive leisure equipment as their space is small but you can also donate your stuff to Fritidsbanken Frölunda.
Fritidsbanken is a concept started in Värmland and there are today about 95 Fritidsbanks in Sweden.
Mandator is the City of Gothenburg, Majorna-Linné borough.