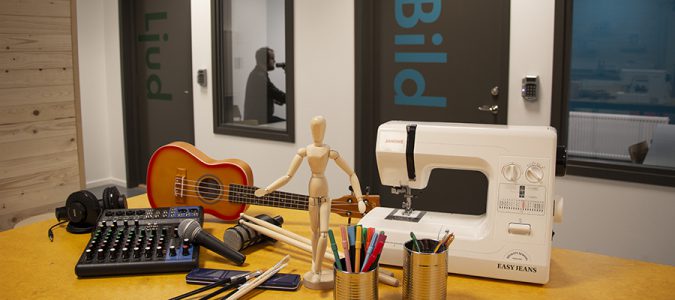 Götaverkstan
Maker space at the library!
Lorensberg, Gothenburg
Götaverkstan is the City library's creative space. In Götaverkstan you can create on your own or together with others. Cultivate your creativity!
Götaverkstan is a place for creative and sustainable creativity and is accessible for everybody with a library card. At Götaverkstan you can, for instance, paint, draw, make origami, embroider or borrow a sewing machine.
Everything is for free.
Sewing machine and overlook machine.
You can borrow a sewing machine or overlook machine on a rolling table that among other things include accessories such as scissors, needles and black and white thread. If you wanna sew in another color you need to bring your own thread. To use the machines you need a little know-how as there is no personell that can guide you in your sewing project.
Bookable rooms for sound, images and music
You can book one of Götaverkstan's three sound and image rooms:
Sound – record and edit sounds, for instance your own podcast
Images – edit photos and videos
Music – record your own music
Arrange your own workshop
If you want to arrange your own workshop and share your knowledge and create with others contact Götaverkstan at gotaverkstan@kultur.goteborg.se
Götaverkstan is open for your own creativity during the library's opening hours. During some hours there are courses or workshops that might need you to sign up in advance. Keep an eye on The City Library's programme.