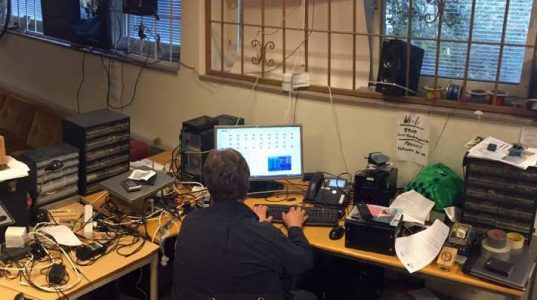 Gothenburg Hackerspace
Do-it-yourself workshop for hardware and software.
Härlanda, Gothenburg
Gothenburg Hackerspace regularly meet on Saturdays. Coffee and something sweet, general nerdy hang-out and/or some random project is normally on the agenda – you can take something with you to work on or you come in empty-handed and just hang out!
A hacker space is a physical space where you can conduct many different projects and meet to discuss ideas related to tech and hacking. There are no limitations on what types of technologies they look into, even though it's likely gonna be home electronics, software, old fax machines and robots that do all kinds of things. Robots that knit militant sweaters or build other robots, for instance. It's pretty much up to the members who hang out in the space.
The purpose of The Gothenburg Hackerspace is to create digital, cultural and social artefacts and to spread knowledge and work for openness and freedom. The Gothenburg Hackerspace laboratory also manufacture culture.
GHS is religiously and politically unaffiliated.
If something special (study circles, workshops, lectures etc) is arranged this is normally shared on their website and e-mail list.
They encourag their members to arrange projects or events in the space; stuff that is popular can be a relevant lecture, workshops or other collective projects of different kinds – but it's totally OK to just show up and watch.
If you need access to a projector or other equipment, it's a good idea to visit their IRC channel, so they can crowd source material, plan and also advertise prior to the project (if you want them to).
IRC: #ghs on Freenode http://webchat.freenode.net/?channels=%23ghs
E-mail list: ghs@lists.hackerspace.se