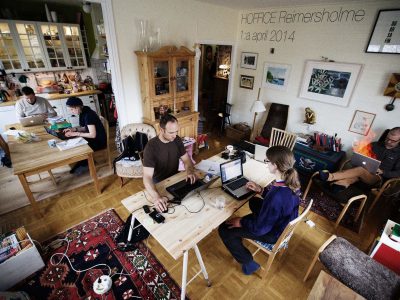 Hoffice
Come home and work. At other people's homes.
Digital
Hoffice is a network that aim to create free work spaces and make it possible for people to follow their dreams. The work places are free since they use an underutilized resource in our society: our homes.
Hoffice is a method created by the psychologist Christofer Gradin Franzén and has proven to be both efficient, developing and pleasant. They work in 45 minute shifts, have fun break activities and share with each other what they're aiming to do during the work day.
Hoffice holds a lot of opportunities, like creating a social forum for the self-employed that in one way or another are driven by creating a better world, rather than building a private fortune.
To work at Hoffice differs from most work places in a way a lot of people might feel is a paradox: they get more done by also taking care of themselves, laughing and having fun together.