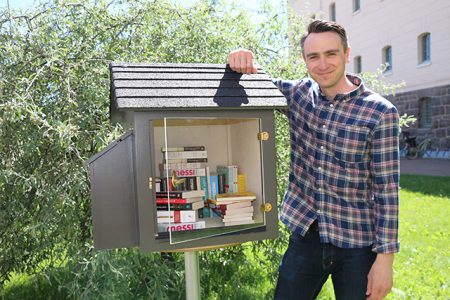 Kåken's mini libraries
Borrow a book without a library card!
Vidkärr/Björkekärr, Gothenburg
The mini libraries are a kind of book boxes places in two places in Örgryte-Härlanda part of the city. One is placed on Björnplan near Kaggeledstorget, next to the tennis court in the green area between Helleforsgatan and Uddeholmsgatan. The other one is located at Stabbetorget.
The mini libraries are part of a project by Culture House Kåken to encourage reading and hoping to get literature closer to the readers. They offer a lot of good reads, books you've always wanted to read, childhood favorite or books you can recommend to your friends. There's something for everybody!
If you find a book you like you can just borrow it and read it until you're done, then you just return it to the mini library. You don't need to register anywhere and it's for free. If you have books you'd like to share you're welcome to put them in the mini library. The project owner's hope is for the mini libraries to be adopted by the community and become a natural part of the city.
For more info, contact librarian Kristian Schultz.
There is also a mini library erected by the community in Kungsladugård, in the intersection of Kungsladugårdsgatan and Ståthållaregatan.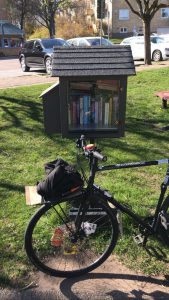 Mini library at Stabbetorget.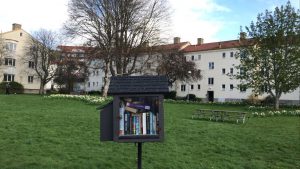 Mini library by Björnplan.