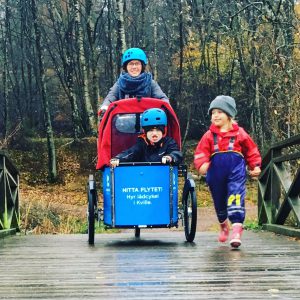 Kville's Cargo Bike Pool
Rent an electric cargo bike for your bigger transport needs!
Kville, Gothenburg
Rent an electric cargo bike for 20 SEK per started hour.
The pilot project makes it easier for people to solve quick, shorter transports – without a car.
Cykelpoolen is responsible for the practical things concerning the renting of the bikes.
There are six electric cargo bikes in three different models.
Booking of the bikes is done through the app Linka GO.
Download it from the Google Play Store here or App Store here.
You only pay for the time you rent the bike.
The cost is 20 SEK per started half hour.
The bikes are in a separate bicycle garage you will need the code to get into.
The project is a collaboration between Gothenburg's parking authority, Kvillebäcken's consortium, Älvstranden Development, Gothenburg's Traffic Office and the city planning office.
Gothenburg's parking authority is working to make the day-to-day life in the city easier, for everyone who lives, works or visits Gothenburg. Through the trademark Parkering Göteborg, they offer sustainable parking and mobility solutions. They encourage the use of new ways of commuting, for instance through working with other mobility actors and business to make it easier to travel and to make the city more accessible.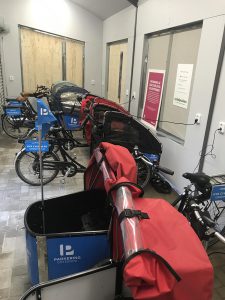 The bikes inside the garage.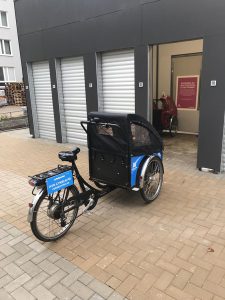 One Christiania bike outside the garage.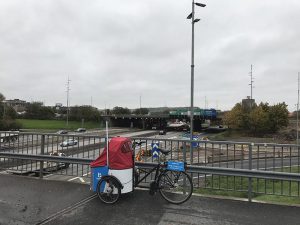 The cargo bike with the Tingstadstunnel in the background.