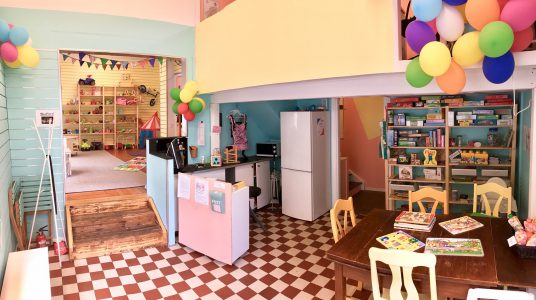 Leksaksbiblioteket
Borrow toys!
Majorna, Gothenburg
Sweden's first toy library is located in Majorna.
A lot of families live in small apartments and have limited space – so why own all your toys yourselves? On top of that, not all families have the economic possibility to get access to expensive quality toys. At the same time the mountain of garbage grows and the unsustainable consumption is rising. The Toy Library wants to change all of this.
Together with both kids and adults the toy library will evolve according to the wishes and needs that exist, from supply to opening hours. It's mostly toys for kids up to seven years old, but all kids are, of course, welcome.
Kids have an average of 536 toys each… But how many are actually being used?
Source: The study Det massiva barnrummet
By borrowing instead of buying, you can save a lot of space and money. It also gives you the opportunity to check if your kid is interested in the toy before you buy it. Maybe the toy is just fun for a couple of days?
Maybe your kid was more interested in the wrapping paper than the present? Avoid those unnecessary purchases and use the toy library's supply to try and to experiment.
By borrowing instead of buying we also teach ourselves and our kids, in a tangible way, how we can reduce our carbon footprint through sharing instead of constantly buying new stuff.
At Leksaksbiblioteket you can become a member through money or volunteering time. After you've become a member you can borrow toys for your children.
Leksaksbiblioteket is financed through The Swedish Inheritance Fund and Sharing Cities Sweden that is a part of Viable Cities, a Swedish innovation program for smart cities and is financed through Vinnova, Energimyndigheten and Formas.
Leksaksbiblioteket is run by Majorna Samverkansförening in cooperation with Hyresgästföreningen Västra Göteborg (The Tenant's Association West Gothenburg), Ekologisk stadsdel Majorna 2.0, Studiefrämjandet (The Study Association), The City of Gothenburg and Familjebostäder and is also a part of the project Sharing City Gothenburg.