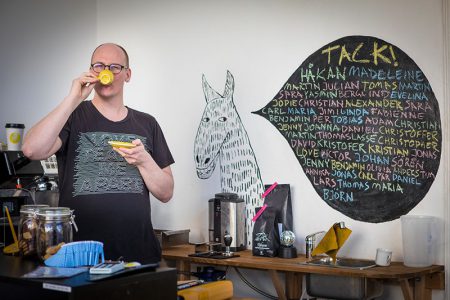 Llama Lloyd
Bike culture cafe with a co-workingspace.
Kville, Gothenburg
Robin Olsson is a music nerd that runs a cafe where you can rent bikes or office space in his co-working space.
Llama Lloyd is not your usual vegetarian cafe: it is based around an idea Robin has about how he wants his day-to-day to be like: to have some routines, to work with people and the possibility to be creative at work. That idea is reflected throughout the entire business, the aim is not maximum profit with a bunch of additives in the cookies – here, the cookies are made after Robin's grandmother's recipe from scratch. Most of the menu is organic and a lot of it is vegan. On weekdays Robin makes different soups, the carrot soup for instance is made after a recipe from Robin's first Couch surfer, Siri. She was the first to sleep on Robin's couch, that he lends out to tourists in Gothenburg. With time Robin became the ambassador for CouchSurfing in Gothenburg and is today host for the monthly fika which is held the first Wednesday of the month at the cafe. Incidentally that is the day he normally makes Siri's carrot soup.
When Robin got involved in CouchSurfing he became interested in the collaborative economy and how you could develop similar ideas to staying on a stranger's couch to other parts of society. A lot of ideas had been tweeted back and forth with Mattias at Skjutsgruppen when they "met" for the first time through Skype at the constitutive meeting for the organization behind this website: Kollaborativ Ekonomi Sverige (Collaborative Economy Sweden). In the organization Robin sees his role as the person sharing these new ideas to people who haven't actively sought up the collaborative organizations, but merely tell visitors to the cafe about Sambil, Skjutsgruppen, Trustroots and so forth.
Since Robin is convinced the bike is the solution to a lot of our cities' problems he gives cyclists 10% off food and drinks. This is a part of creating a stronger bicycle culture in Gothenburg, but has also led to a lot of people calling Llama Lloyd a bike cafe. Robin himself, normally refers to it as a Bike Culture Cafe. The culture is reflected through the bi-weekly exhibitions in the cafe's gallery #8bitgalleri, and some times small bands play within the concept #FifteenMinutesofFrame. Some of the bands have been interviewed about food at llamalloyd.se, that website was primarily a food and music blog before the cafe opened March 1st 2015. These days llamalloyd.se is mostly used as a webshop for art prints and specialty coffee.
Come by, talk to Robin about sharing, work in the co-working space (that includes lunch) or rent the tandem bike!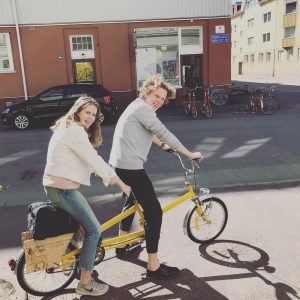 Rent a tandem bike!