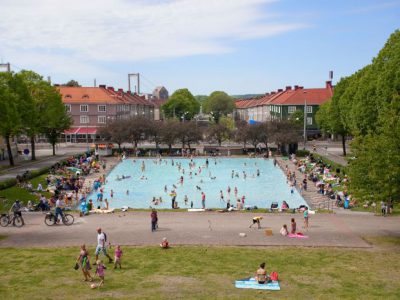 Plaskis
Wading pool for small children.
Majorna, Gothenburg
Plaskdammen (the wading pool) aka 'Plaskis' by Mariaplan is very appreciated by little children. The size of the pool is 1008 m2 with a depth of 20-45 cm. It's open for 12 weeks during the summer, from June 1st until the end of August. The rest of the year it's popular among skateboarders.
The pool was constructed in 1930-31 and was paid for by the Charles Felix Lindberg's donation fund with a donation of 50 000 Swedish crowns.
After the Second World War there were a lot of wading pools constructed in Gothenburg, but when the standards of personal hygiene rose and as a result of renovations of the squares, a lot of the wading pools disappeared. Plaskis is the only one that's still left, which is run by the city.
Photo Copyright: Beatrice Törnros/ Göteborg & Co