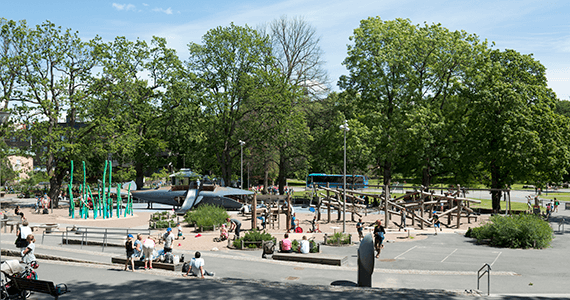 Plikta excursion playground
Excursion playground in Slottsskogen with a big whale!
Slottsskogen, Gothenburg
Plikta in Slottsskogen is one of Gothenburg's excursion playgrounds. You can climb inside and on the outside of the big wooden whale. There are several slides to choose from, among others one that's 25 meters long. If you like to go on swings there are a lot of different ones to choose from, climb in the nets or exercise on the outdoor gym. At Plikta there is leisure services called Plikta Parklek. They have personnel there every weekday. They can lend you bikes, games and playground tools and create activities for kids between the ages 6-16 years.
On The Smart Map we've chosen to only list the city's excursion playgrounds. If you want to see all playgrounds on a map we recommend this app, that is sadly only available in Swedish: Lekplatsen.