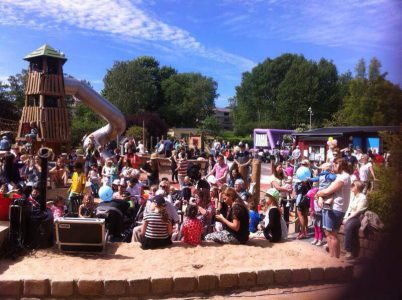 Positivparken's excursion playground
Excursion playground with gigantic perler beads!
Frölunda, Gothenburg
The playground is located in Positivparken and is Gothenburg's second excursion playground, after Plikta in Slottsskogen. The playground is divided in two spots in the park. Next to Frölunda culture house there is parkour and trampolines. Further in the park, towards Ruddalen and Frölunda's school there is a playground with a farm theme for the smallest children. There you will also find Positivet. There you can find two gigantic perler beads, one with about 90 000 and one with about 80 000 beads.
Near Positivet there is a beach volleyball court, boule court and a football field on grass. You can grill on the open barbecue places.
Tools:
Parkour, basketball court, motor skills training, trampolines, slides, outdoor gym, boule, obstacle course, sand box.
Nearest public transport:
Frölunda torg or Positivgatan
The opening hours are normally longer in the summers.
On The Smart Map we've chosen to only list the city's excursion playgrounds. If you want to see all playgrounds on a map we recommend this app, that is sadly only available in Swedish: Lekplatsen.