Returkultur
"With hope for revolution"
Kungsten, Gothenburg
Returkultur ("recycle culture") is a network for environmental work within cultural production with a focus on reuse, sharing and education. They want to establish a culture where reuse and sharing is an easier and better alternative than increased material consumption. Where fixing and taking care of what you already have is a given instead of constantly buying new things. Sharing means to have access to stuff when you need them instead of owning your own things. Their aim is to spread their ideas, their vision and their knowledge to as many as they can – that environmental work is simple, fun and accessible.
Returkultur was born as a cooperation between the two festivals Skogsfesten and Algotfestivalen.
After a few years of comprehensive cooperation and sharing of both human, physical and knowledge-based resources, the vision grew to sharing resources with even more people. There were a few different cultural organizers in the circles and there was already an unofficial network for sharing between a lot of participants, but no common platform for over-all environmental work. Returkultur hope to become this platform: a physical meeting place for participants to share their experiences around environmental work and a network to share equipment and materials.
Culture is all of society
The self-organizing and community-based cultural production is one of the most important pillars for the culture Returkultur wants to create and is primarily who they are aiming to reach and benefit. They feel the festival format is extra exciting and look at it as an educational way to express the culture they like.
Environmental ambitions

Equality

Community
In addition to making physical resources accessible they also want to educate how to use the equipment they provide, for instance stage mechanics or carpentry tools, to make it easier to produce culture without a demand for big financial resources.
Now
As a first step they gather and catalog the equipment they have, gather discarded equipment and tools from rental companies, cultural institutions and construction companies and in the form of a study circle repair them and then have them be a part of the sharing library.
They also plan to open study circles and workshops in carpentry and construction, cultural organizing, responsible economy, sound and light technique, environmental communication, food waste logistics and food for cultural events, to reduce waste and waste management, etc.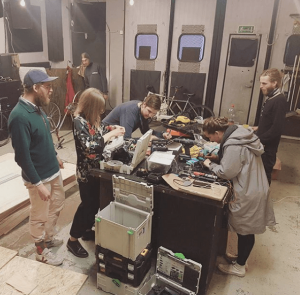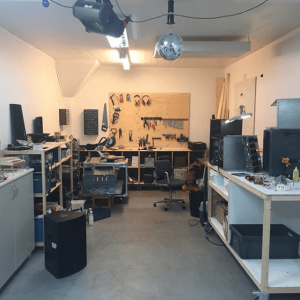 Equipment
Borrow
Things
Gadgets
Popular adult education
Repair together
Tools