Stories
Meet Solveig Brontes at Gratisbutiken i Majorna (The Free Shop in Majorna)
It's Halloween, but more importantly, it's Wednesday. Gratisbutiken (The Free Shop) in Majorna is, as every Wednesday, open between six and eight. I walk around the corner of Fixoteket at Slottsskogsgatan and enter through the back at Carnegiegatan. I get a warm welcome from Solveig Brontes that is knitting and talking to her sister in Fixoteket's bike workshop. She's sitting there and showing people down to the basement below Fixoteket, where the free shop is located.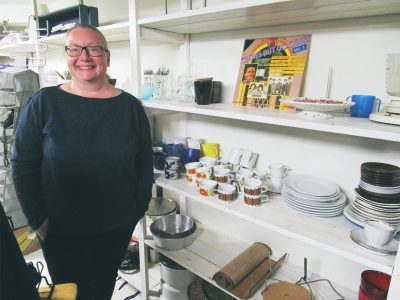 What is Gratisbutiken?
I sit down next to Solveig and her sister Johanna and they tell me that Gratisbutiken is a store where everything is for free and anybody can leave or take things, there are no rules that you have to give something in order to take. You can collect and leave functional and clean clothes, books, smaller utensils and toys.
How is Gratisbutiken run?
Soon a man enters who is curious about what Gratisbutiken is and how it's run. He learns that the space housing Gratisbutiken is owned by communal Familjebostäder and that it's leant for free to the shop. The man calls himself a "second hand"-guy and could consider contributing with his own time and also donate what Gratisbutiken gets less of: male clothing. The whole Gratisbutiken is run entirely without money. Solveig, Sara and the other that work there do it out of their own benevolence.
Visit Gratisbutiken Wednesdays 18-20!
smartakartan.se/en/gothenburg/the-free-shop-in-majorna
Text: Robin Olsson, chairman of Collaborative Economy Gothenburg, the NGO that runs The Smart Map. Mårten is a second generation car sharer.
Bagarbil is a car cooperative formed in 1995 and has two cars and 51 members where about half is women and four of them are in the board that consist of six people in total. The organisation is running smoothly and has managed to get through both a car on fire and the usual struggles of getting people involved in the organisational work. The two cars are leased by the organisation where all members are part of different work teams where each team has a different task like taking car of a specific car or recruiting members through handing out leaflets or running ads on Facebook.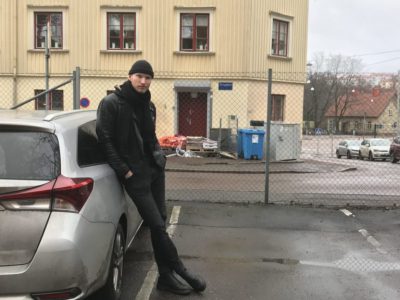 All members puts in about a half hour every three months by driving the cars to the car wash or other maintenance. The organisation has members in the age of 30 to a few happy pensioners. The membership fee is 750 SEK/year unless you're lucky enough to live with another member, then it's 250 SEK/year. The cars are booked online and are then opened by a little gadget that reads your driver's licence. The same gadget logs how far and for how long you use the car and sends you a bill once a month. The membership is open to everyone who has a B driver's licence and doesn't have any debts to Kronofogden (the enforcement authority). You don't have to live in Bagargården, but that's where the cars are parked. During 2019 they will test to have a third car, most likely a small electric car like a Nissan Leaf or a Renault Zoe.
Mårten Bydén is a 34 year old man living in Gamlestan that commutes by train to his job as a fireman in Alingsås. Mårten prefers history and cooking above cars and sports. He is also the guy responsible for members at Bagarbil and the man you should contact if you want to join the organisation or ask how you can start your own car cooperative where you live. Robin and Jonathan from Collaborative Economy interviewed him while having a semla!
The Name, how are you suppose to interpret that? Bagarbil? Is is a baker's car? (Bagare = baker in Swedish)
The organisation's full name is actually Bagaregårdens bilkooperativ and Bagaregården is an area around Redbergsplatsen in the direction of Gamlestan.
How is Bagarbil organized?
It's a non-profit organisation where the members lease cars. The organisation is controlled by a board which is voted in at the yearly meeting. I'm in the board as responsible for members, so I read the applications from new members or if someone wants to exchange work team.
How did you get in contact with Bagarbil?
I've been aware of car cooperatives for a long time since my parents were members of Alingsås car cooperative when I grew up. That cooperative started with one and now has five cars. My parents are still members.
When I moved to Gothenburg I was already aware of how a car cooperative works so I searched online and found Bagarbil, which was the closest and the car cooperative that would work best for me who lives in Gamlestan. That was three and a half years ago now.
What's the worst thing about Bagarbil?
Maybe that you have to plan. Evenings and weekends the cars are often occupied, but on a weekday afternoon when most people are at work and there is almost no one using our cars in their work so it is a lot easier booking a time then. If you plan ahead a week or so it is normally a car available.
How often do you borrow the car yourself?
I live a quite car-free life, but I use the car about once a month. Most trips are shorter, like going to the recycling center, going skating by Härskogen or visiting my friends in the country outside Kungälv. I pay about 200-500 SEK/month to the organisation including the yearly member fee.
How does it work when you rent the car?
You pay for both time and distance. The small car is 14 SEK/hour and the bigger 18 SEK/hour and the cars are equipped with a system that reads your driver's license to open the car and sends a monthly bill for the time and distance you've driven the car. The larger car has a towbar and it's ok to bring pets in that one. Congestions charges is paid collectively by the organisation.
Is there a social benefit of Bagarbil compared to renting a car at a gas station?
The board meets continuously and we have a good time. We have went out for beers once during my three years in the organisation, but I don't socialize privately with anyone in the organisation.
Who are members of the organisation? Are they generally interested in cars? Do they think about the environment?
Yeah, the environment is a common interest and most people aren't that interested in cars, it's not fun owning a car. Idealism around cooperative ownership is also something shared with our members.
You describe it as a sharing, not a renting?
You are collectively responsible, it takes some commitment, either to be in the board or drive the car to the car was once every three months. If I leave trash in the car somebody else will have to clean it up. It's not like when you rent a car at the gas station where you leave your shit when you return your rental car. You have some kind of responsibility towards the other members.
What is is you like about Bagarbil?
It's cheaper, a lot less hassle and I contribute to less cars in the society which is good for the environment.
Do you like that you're doing this together?
It's a beautiful thought, after all. Maybe it wouldn't have worked if it was more expensive or more hassle.
What company are you leasing from? Do they have any problems with leasing to an organisation?
Toyota Gothenburg in Sisjön. We might get another brand on the next car. We haven't had any problems with being an organisation leasing, so if some one gets inspired by this to start their own cooperative I have nothing to complain about Toyota.
Has there been any problems with people misbehaving the cars, crashes, etc?
No, not really. Except that one car burned up a couple of years ago. The car was in its parking and we never found out if it was an electrical problem or what it was that caused the fire. It didn't seem to be arson, though.
How did the organisation sustain that crisis?
Well, we had one car less for a while, so sure it was a crisis, but we didn't have to raise the membership fee or something like that to solve it. The supply of cars was of course worse until we got a replacement car, but we got it quite quickly.
Why do you commit to the organisation?
I got called up byt the chairman of the board, that's how you get people to commit today. Majorna's car cooperative was a quite large cooperative with about a hundred members, but they had to shut down because people didn't commit to the organisation.
Should you be able to be a part of a cooperative without being commited?
You shouldn't be able to be totally unengaged, you have to do your part by driving the car to the car wash or service once every three months or help distributing flyers by Redbergsplatsen or administrate Facebook ads. You need to, at least, put in an hour or two per quarter.
Who are in the organisation?
In the board we are two in their sixties, one in his fifties and I'm probably the youngest with my 34 years. I'm not sure about the members but I would say that families are under-represented, they often have another need regarding cars. Ten-twenty percent of the members are pensioners. There is no requirement that you have to live in Bagargården, there are members living in Lunden, Kålltorp or like myself, Gamlestan. Even people living on Hisingen are welcome to join!
What is going on in the future of the organisation?
We will broaden the fleet with another car, most likely a little electric car. We will have the third car parallell to when the leasing of our small car runs out this summer, to try if it's economically viable to have three cars in the co-op.
How do you want to end the interview?
I would like to invite the readers to join a car cooperative. Contact me if you want to join Bagarbil or if you have any questions regarding our way to organize the co-op!
Bagarbil is one of several car pools in Gothenburg. Feel free to read more about and compare with Sambil, Move About and the others to see which is best for your car needs. Meet tomorrow's drivers who use an electric car pool for their trips!
Lisa and Oskar met when they were building The Chalmers Cortège, today they're trying to build a better world by avoiding meat, unnecessary flights and to not own a car. Jonathan and Robin from Collaborative Economy Gothenburg met them at Chalmers at the end of 2018 for an interview.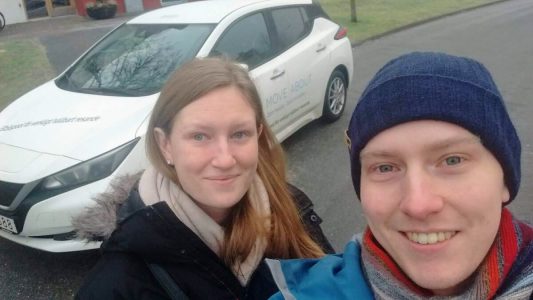 Lisa's new year's resolution is to not buy any new clothes during 2019.
The goal is under two tonnes of carbon dioxide per year, says Oskar and continues, today we are at 2,6 tonnes and then there's our part of the society's part with another 2 tonnes.
The couple has recently move to Jonsered and when they want to go traveling they first take the train to Gothenburg Centralstation where Move About has one of their electric cars. It's with these electric cars they drive when they're going longer distances.
Oskar: We've used Move About for about two years. It feels like a family business. They have always reply swiftly to our emails about wanting to rent a car for longer periods than what's intended and then they've helped us get that sorted. We plan our routes using Better Route Planner och Uppladdning.nu. It takes about four hours to Linköping including charging when we use the time to eat.
Is it easier to rent a car than to own it? How much does it cost?
O: We have a wallet for all the charging station cards that we bring when we travel and with the above mentioned services it's manageable, but it takes a little bit more planning than if we were to use a fossil-fueled car. It costs 124 SEK/month (62 SEK/month for students) to be a part of Move About and then it's 79 SEK/hour or a weekend for 695 including everything except excess electricity, but it's not that expensive with electricity.
How far does the different cars go?
O: It depends a lot on how fast you drive and what the road surface is like, and stuff like that. We normally drive about 150 km before we charge so we have some marginal before we run out of power.
What are the benefits of Move About's electric car pool?
O: Firstly that it's fossil-free, but also that Move About feels like a friendly business, that they have a vision beyond the next quarterly report. One time we rented a car that smelled like smoke and we called and gave notice about it and they said that it's ok and that it was good that we told them. They're usually ok with some one making a mistake. I have friends who have used SunFleet (Volvo's sharing solution that is now called M) and they're a lot more strict. You really get penalized if you don't report something. Another time we called and asked what the add-on cost of having another driver was and were happily surprised to hear that there isn't a fee like that. We've also asked them to provide information on the size of the battery of the different cars and that information was soon up on the website.
Why do you choose Move About's cars before SunFleet (now M) or rental cars at the gas station?
O: The electricity above all. We have a climate budget and it would completely explode if we used a fossil-fueled car. And then it's the price, too. And you save half an hour every time you use it since you don't have to fill up gas at the end of your booking, which you need to do at SunFleet (now M), for instance.
Is it totally normal for you to now use Move About? That it's your go-to option when you're going traveling somewhere?
Lisa: Yes, we normally use Move About if we're going somewhere together. If I'm traveling on my own I would more likely use buses and trains.
What's your views on the empty seats in the car? Do you know about Skjutsgruppen (The Ridesharing Movement), is it ok to rideshare with Move About?
O: It shouldn't be a problem. Only thing would be that we would be responsible.
Is that something you could do, pick up people via Skjutsgruppen?
L: We haven't really tested that many sharing economy things, actually, but I might be game if I had some more info about the person joining us.
O: I think we all live a bit to much in our own stressed lives with tight dead lines and that everything falls into place. I feel that's the only obstacle, that it should work in your own schedule, but besides from that it feels like a good thing!