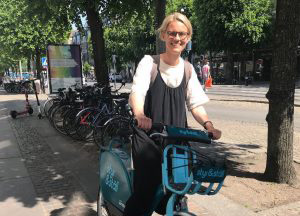 Styr & Ställ
Bike sharing system in both Gothenburg and Mölndal!
Gothenburg
Styr & Ställ is Gothenburg and Mölndal's bike sharing. June 2020 a new system was introduced which replace the old system from 2010. The new system has bikes with seven gears, almost twice as many stations and a new booking system where you handle everything in a mobile app. All of this makes it easy to rent a bike.
Where are the new stations located?
The bike stations are, among other places, available in the city centre, Majorna, Gamlestaden, Mölndal and on Hisingen. Initially there are 40 station and 1000 bikes but the system will be a lot bigger when it's fully spread in july/august 2020: 135 stations and 1750 bikes. You can check their website or the app to see ALL of the available stations, here on The Smart Map we only list a few of the stations.
How do I register and how much is a subscription?
To be able to rent a Styr & Ställ-bike you need to register. The easiest way is through the Nextbike app, or at www.styrochstall.se or by visiting the physical terminals for Styr & Ställ in Gothenburg or Mölndal. Initially there is only a terminal in central Mölndal, but there will be stations at Drottningtorget, Gustav Adolfs torg and Korsvägen in Gothenburg.
The different subscriptions are:
Yearly card (300 SEK)
Monthly card (90 SEK)
Single (20 SEK)
Please note that we only list some of Styr & Ställs stations, for instance we don't show the stations in Mölndal. Check their website for all of the stations.