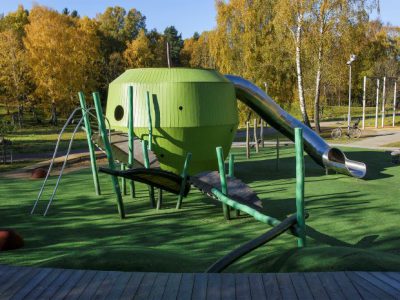 The Hisingspark's Excursion Playgrounds
Excursion playground with a giant apple!
Tuve, Gothenburg
In The Hisingsparken there are two of Gothenburg's excursion playgrounds. The playgrounds are at two different places in Hisingsparken and are called Fruktträdgården (The orchard) and Bondgården (The Farm).
FRUKTTRÄDGÅRDEN (THE ORCHARD).
In the orchard you can climb and go on slides in the four meter tall apple tree. If you're brave you can ride the giant swing. Visit the old homestead and feel free to take an apple of a pear in the orchard. When you want to rest there are cots and hammock to chill in. There are a lot of places for you to sit and have your brought food.
Tools
Swings, climbing play ground, slides, cots and hammocks.
Nearest bus stop: Mellangårdsvägen, Bjurslättsliden
BONDGÅRDEN (THE FARM).
In the farm you can go on a ropeway, climb and go on a slide in the hay bale. If you're brave you can climb in the obstacle course. Next to the creek there is a pump and a penstock. There are seats for having your lunch pack on top the hill and a place to barbecue down by the lake.
Tools:
Obstacle course, climbing games, slides, trampolines, wooden tractor, barn, animal swings, water games.
Nearest public transport:
Hinnebäcksgatan
On The Smart Map we've chosen to only list the city's excursion playgrounds.
If you want to see all playgrounds in Gothenburg on a map we recommend this app, that is sadly only available in Swedish: Lekplatsen.