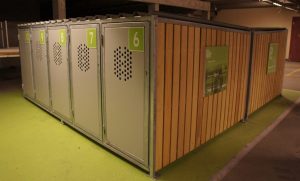 Park and Bike
Rent a parking space with a bicycle locker
Väst på Stan, Umeå
Park and Bike is a parking solution for those who commute daily to downtown Umeå. The idea is to park the car outside the city center and then ride a bike to the final destination.
The parking solution includes a parking space for the car and a separate locker for the bike. In the locker you can also store a helmet and rainwear.
Upab offers Park and Bike in two places right outside the city center. In Dragonskolan's parking garage, there are ten spots for 500 SEK/ month. At Umestan, outside the gates towards Road 503, there are eight parking spaces and bicycle lockers. Here you pay 350 SEK/ month.
To rent a Park and Bike space, you need to create a user in Upab's digital platform. Register name and address under your profile and add a debit card. Then contact Upab's customer service at 090-16 15 50 to get the code required for your chosen location.