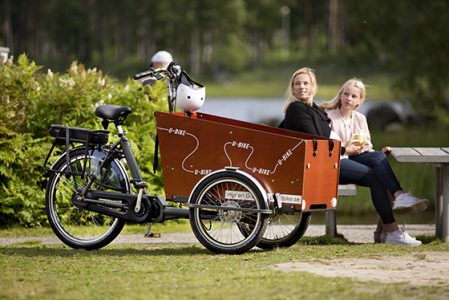 U-bike
Rent a cargo bike
Centrum & Universitetet, Umeå
The cargo bike can carry up to 75 kilos and replace many car rides in the city. The box is spacious and equipped for transportation of children. A fully charged battery lasts for about 60 km. The bikes are rented all year round, with studded tires during winter.
Membership costs 80 SEK/ month. The first 3 hours are free to rent, and the cost is then 10 SEK/ hour. Once you have booked one, the rental period starts immediately. The bike must be returned before 11 pm the same day.
There are three different bike models for rent: tricycles and two different two-wheelers, one with a larger box and one with a smaller. There are also a couple of regular electric bikes.
To rent a U-bike, you must first register as a member of Triply