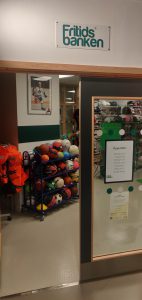 Fritidsbanken Tumba
Borrow sports- and leisure equipment for free
Tumba, Stockholm
At Fritidsbanken, you can borrow everything from complete slalom equipment and floorball sticks to life jackets and three-person tents. What is in the assortment differs from place to place and depends on what we have received. Everyone can borrow and everything is free – we never waver on that. The equipment is used, but usually in very good condition. We also work regularly to service the equipment so that the user experience is as good as possible. Skates are sharpened, ski edges as well and ball bearings are lubricated. The loan period is 14 days and the idea is that you should easily be able to try different leisure activities without it costing anything.
Anyone who wants to borrow things at Fritidsbanken states their name and mobile number, it's not more difficult than that. You will receive an SMS as confirmation with a link where you can see what has been borrowed and when it must be returned at the latest. Please note that we may refuse to lend certain equipment to minors without a guardian's permission. In that case, it is mainly connected to security. The equipment is borrowed in its existing condition and the borrower is responsible for ensuring that it meets safety recommendations
Fritidsbanken in Tumba is conveniently located right by the commuter train, inside the library.