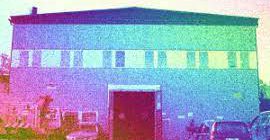 Nattsvart
A do it yourself workshop where one can organize events as well
Högedalen, Stockholm
Nattsvart is a do-it-yourself workshop that wants to be an open, free and safe place where it is easy to get involved and together we can do the things we want and need.
Things that have been done at Nattsvart: Screen printing workshops, sewing classes, film screenings, folk kitchens, bike fixing, board and role-playing games, self-defense training, lectures, study circles and a whole lot of good hang. Those who use the space together decide what the space is, how it needs to work, what it looks like. If you come here, you use the space.
Nattsvart tries to have as many open activities as possible and also publishes events on its Facebook page, instagram and on gatorna.info. If the "flag" is out, just come on in!
Of course no sexism, no homophobia or transphobia and no racism are tolerated.
Organisation
Night Black is not a group or a collective – it is a space for us and others to use. At Night Black, there are different groups and individuals who do different things. There is a working group that is responsible for keeping the place open – ie collecting donations and paying the bills.