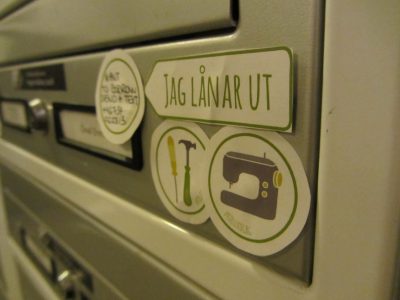 Lending stickers
Borrow gadgets to and from your neighbors.
Digital
Download these lending stickers HERE and put on your mailbox so that you and your neighbors can easily borrow gadgets from each other.
How to use:
1. Download the lending marks
2. Cut out appropriate symbols or paint / write custom ones
3. Do not forget, the arrow Jag lånar ut …("I can lend you…")
4. Put on your mailbox
All done!
The lending stickers are a project of the Collaborative Economy Gothenburg (KEG, who made this website), inspired by Pumpipumpe and Fair Leihen.